Automotive Internet Marketing – The Basics for Your Business
Are you a car dealer looking for automotive internet marketing help? If you need the help of a professional, AdFicient is here for you, if you want to go it alone, here are some tips to get you started properly. As a business owner you may not be completely up to date on how internet marketing works or how you can best utilize it for your car dealership, below we are going to solve those issues for you.
In case you are new to internet marketing, here is a brief history lesson.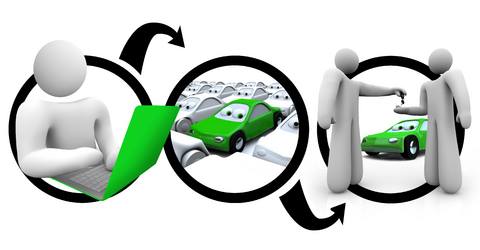 In case you are new to internet marketing, here is a brief history lesson.
Internet marketing has been around since the beginning of the internet and contrary to what many believe, there is no smoke, mirrors, or magic formula to get rich quick. Online marketing, just like any other type of marketing will require hard work and dedication from you or your team.  When we discuss the types of internet marketing, there are two primary forms that come to mind, SEO and PPC. SEO first became prevalent when search engines began to grow in popularity; this was in the mid-90s. Pay per click marketing also began in the mid-90s, facing a good deal of skepticism in the beginning.
Since their inception, both search engine optimization and pay per click marketing have evolved tremendously. If you try to advertise your business online using outdate information, you will be doing more harm than good in most cases. If you are not certain you should always consult with an online marketing professional for help, if you still want to give it a try, here are some tips to help you.
Getting Started with Automotive Internet Marketing through SEO
SEO as we mentioned above stands for search engine optimization. SEO marketing aims to increase the organic search results of a website in order to provide more traffic for select search phrases known as keywords. There are several steps in the process of search engine optimization and taking the time to carefully plan and research your project is crucial. While it would take far more than one article to teach you how to perform SEO at an expert level, here are some ways you can start the process.
Keyword Research –

 

Since you are working in the automotive industry, your customers are going to be searching for geo-targeted keywords on most occasions. This is great news for you as many of these local keywords are easier to rank for, remember though easier is not the same as easy. In order to get started, you need to brainstorm; how would you search for your car lot? If you are a car dealer near St. Louis, then you would want to search variations of that term. After you come up with a list of terms, you can use tools such as the Google Keyword Tool in order to see if people are in fact searching for the keywords you have found. If you find a keyword without any traffic, just remove it from the list and try other related terms until you find high traffic terms.
On Page Optimization –

 

Once you have found keywords that accurately describe what you are offering, you will need to incorporate those terms and related terms into the content of your website. While the old way of performing on-page optimization often called for keyword stuffing, that is no longer an effective method. Instead you need to create quality content that readers and search engines will find useful. This could be as simple as creating a resource guide, a blog page, or a tips section for soon to be auto buyers in your area. Aside from creating great content, you will also need to make sure that the content you write for your page is shareable, tips and lists are two good ways to meet those criteria. Aside from content, you will also need to optimize your website to make sure it is user-friendly, loads quickly, and clearly defines what you are offering.
Inbound Link Building –

 

Once the primary factor in search engine optimization; link building has now been placed on a near level playing field with on page optimization. The purpose of gaining links to your website is to show search engines that your site is trusted and help to further identify what your website is about through anchor text. In order to develop a trusted and authoritative website, you need to reach out to related and high quality sites and ask for links. Some of the current methods people are using including guest posting and forum participation. If you fail to properly build links to your website, you can be penalized or completely removed from the rankings.
Again, while far from all inclusive, those are the basic things you need to understand completely before you try to create a marketing campaign for your automotive business.
What You Need to Know about Automotive Internet Marketing with PPC
Often seen as the competition of SEO marketing, pay per click advertising is as the name implies a form of advertising in which you pay for each click your ad receives. In addition to the pay per click model, you can also opt for a pay per impression pricing structure. Pay per impression generally charges you per 1,000 impressions; most people choose the pay per click model though. Before you start spending money on your PPC campaign, here are a few things to consider.
Keyword Selection –

 

Choosing the right keywords is a must for PPC success. Wondering what makes the perfect keyword? When selecting the words and phrases that you want to trigger your PPC ads you need to find terms that are likely to convert and within your budget. Since you have a car lot, you would want to connect with customers who are looking for a vehicle. Even more specifically; what types of vehicles do you offer? Are you a Mercedes dealer or Ford? You need to make the keywords as specific as possible to your company. This will not only help you covert more visitors, it will also lower the cost per click. Take your time in the keyword selection phase and don't be afraid to test the conversion rates on your keywords over a few weeks before making a final decision.
Landing Page Optimization –

 

One of the biggest mistakes I see with new PPC campaigns is inexperienced people pointing ads to pages that are not relevant. Where many people go wrong is they point ads to the homepage. If you want to reach people looking to buy trucks in St Louis, why not point them to a truck page instead? This will help you convert more visitors and it will often times decrease your cost per click. If you are running a large automotive advertising campaign, the savings could add up quickly, as could the wasted money from not optimizing your campaign. Our team offers a

 

15 day free trial

 

if you need help getting started.
Ad Limiting, Scheduling, and Extensions –

 

When you are setting up your Google Adwords campaign you are given plenty of options that will allow you to narrow your target market. This includes geo-targeting, limiting the times your ads run, and optional ad extensions such as "click to call". Taking the time to understand how each of those can impact your campaign can lead to substantial saving and better results. In order to understand each extension, you are going to need to dedicate several hours to learning and experimenting with various options to find what works best for you.
Aside from pay per click advertising and search engine optimization, we will help you reach a laser targeted marketing using some of the best known and most visited automotive sites on the internet today.
Niche Automotive Internet Marketing
Whether you are just starting to establish yourself as a major player in the automotive market or you are well known in the area, advertising to clients on popular and related sites is another good method for generating traffic back to your website. Here are just a few of the sites we will use to make sure your message is heard.
Autotrader – possible one of the best known automotive marketing sites on the planet, our team will work with you to ensure that you have a strong and professional presence, displaying your vehicles to consumers 24/7.
Kelly Blue Book – much like Autotrader, KBB is one of the most well-known and respected sites that consumers use to locate automobiles for sale. If you are not presenting your inventory on KBB you could be missing out on tons of leads daily, we will make sure you aren't.
Edmunds – this site is the 1,600th most visited site in the United States, which means every day consumers will browse Edmunds to find cars for sale in the local area; will you be there to assist them? If not, you are missing out; Adficient will make sure that you reach every consumer possible in your area and help you to generate sales.
In addition to the sites mentioned above, we can help you build and maintain your presence on several other automotive sites some of which include:
Ebay Motors
Yahoo Autos
AOL Auto
MSN Auto
Triple A
Once we have made your presence felt of those sites, we will reach out to the hundreds of other sites that can drive targeted and qualified traffic to your website. Automotive forums, car shows, and community events can bring you together with qualified leads; let us introduce you to them.
Not Sure Where To Start?
If you are feeling a little overwhelmed right now, that is ok.  Creating and managing a successful automotive internet marketing campaign is going to be a full time job and you need to be committed to making it a successful one. If you are not comfortable undertaking this on your own or you just need some help getting started, contact us today to learn how we can help you.